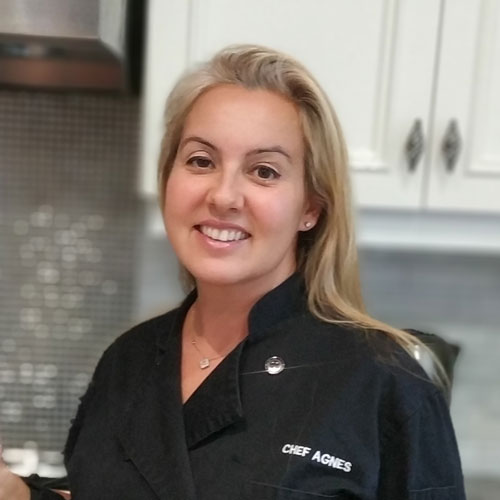 Agnes Imani
Founder / Head Chef
FoodGen was started by Chef Agnes Imani so she could spread her love of food to others. Born in Budapest, raised in Montreal, and living in Toronto, food culture was always a big part of her life.
Spending her youth traveling the world and experiencing food from diverse cultures has led her to put an international spin on her culinary expertise. Agnes discovered her love for food from her mom and grandma's kitchen as a child, and later by working in her parent's family-owned bakery in Montreal.
This interest in cooking led her to attend the Pearson School of Culinary Arts, finishing at the top of her graduating class. Agnes was picked from among hundreds of students to be placed for an apprenticeship at Restaurant Toque, under the supervision of world-famous Chef Normand Laprise.
She then went on to become the head chef at a prestigious private daycare, catering to the palettes of many picky little eaters. Her next accomplishment was to start a catering and personal chef business, Gourmet Everyday Catering.
In 2010, Agnes relocated to Toronto and began a small business teaching kids and parents how to cook healthy meals. She realized teaching was her passion. Over the last 10 years, Chef Agnes, as her customers all know her, has expanded her business to include several private schools, public schools, community centers, and organizations teaching thousands of kids and adults to cook delicious healthy meals.
Agnes profoundly believes that by teaching people about where food comes from, healthy eating, and instilling a love for cooking, we can ensure healthier adults, strong family values, cultural understanding, and a more sustainable world.